Pastor Paul Hackett is a native of Dublin, raised in Glasnevin. He is married to Maire a native of Monaghan. They have two children: Emma and Daniel.  He attended a Christian Brother school growing up. After school, he immediately entered the business world. Paul has worked in Dublin, Germany and in Monaghan. He met his wife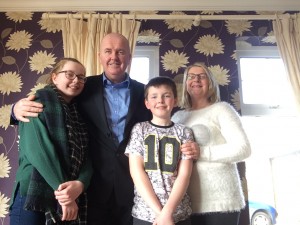 Maire in Dublin in 1997. In 2000 they moved to Marie's native county of Monaghan. After trusting in Jesus Christ as their Lord and Savior, it wasn't long before Paul and Maire felt a call to Ministry. Paul is deeply devoted to Christ and His Word. In 2011 Paul felt God's call to Bible College,after 3 years he completed his BD (Bachelor of Divinity) at the Irish Baptist College.  In September 2014 Pastor Hackett and Maire were led by the Lord to serve at Cootehill Christian Fellowship. Paul's first love in ministry is disciple-making—the simple biblical model of multiplying the gospel by sharing the love of Christ, teaching the Word of Christ, and  showing the life of Christ to all nations. Paul and Maire are totally devoted to loving and ministering to the people of Cootehill.
The church would like to extend a warm welcome to everyone.